2022.05.18
NEW OUTLET @ RAFFLES CITY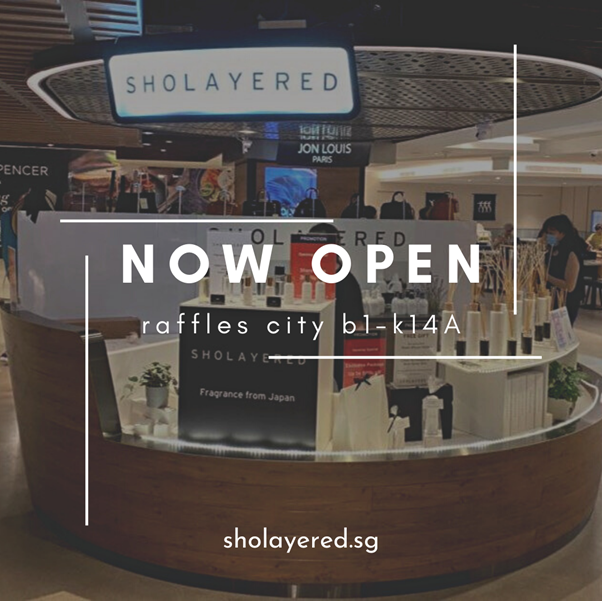 SHOLAYERED @ Raffles City Shopping Centre
 It is to our great pleasure and excitement to announce the opening of our new pop-up store at Raffles City Shopping Centre, Basement 1 (B1-K14 A)!
Come enjoy luxury through simplicity with our subtle yet addictive fragrance. Head down to our new outlet now till 31st May 2022 to enjoy 30% off storewide!
SHOLAYERED is a fragrance Maison from Japan that was established in Tokyo in 2013.
Our original scents are available in 20 countries around the world.
Our scents are built based on Japanese modern culture that has a unique focus on fostering tranquillity and simplicity through the art of scent.
Built on clean, light, minimalistic scents that can be layered, SHOLAYERED transforms your fragrance journey.
𝗦𝗰𝗲𝗻𝘁𝘀 𝗼𝗿𝗶𝗴𝗶𝗻𝘀 𝗳𝗿𝗼𝗺 𝗝𝗮𝗽𝗮𝗻 | 𝗠𝗮𝗱𝗲 𝗶𝗻 𝗝𝗮𝗽𝗮𝗻 | 𝗠𝗮𝗱𝗲 𝗯𝘆 𝗝𝗮𝗽𝗮𝗻𝗲𝘀𝗲 𝗦𝘁𝘆𝗹𝗲