2023.01.10
How to use your fragrance diffuser?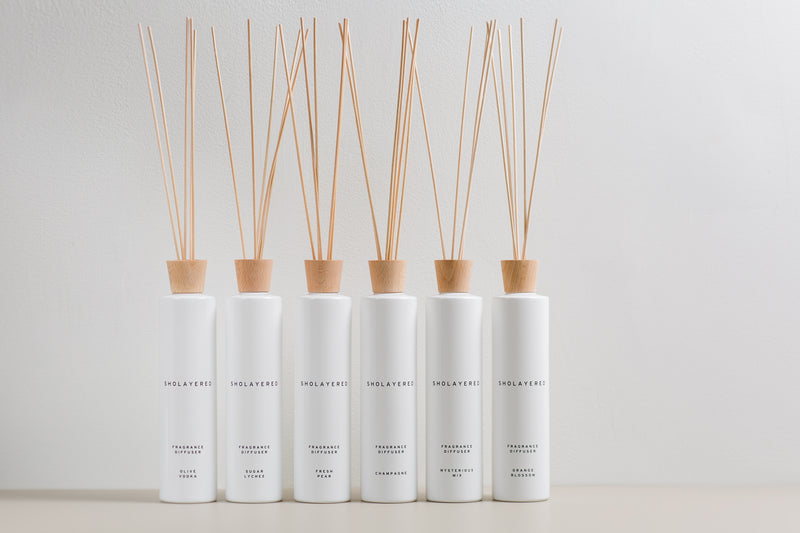 Have you ever experienced your fragrance diffuser losing its scent?
There are a few reasons on why that happens and we are here to teach you how to minimize this situation!
Where should I place my diffuser?
Place diffusers in cool & dry places that have minimal direct sunlight.
As scents spreads evenly in a warm and well-ventilated place, these are the recommended spots to place your diffusers!
Place the diffusers where it is easy to notice the scents have changed when entering a different room. (e.g. close to doors, corridors and entrances)

It is best to use the diffuser all day and we recommend that you use different scents for different places like the in the kitchen, living room, bathroom, bedroom and studying room. As the day pass by, you can enjoy the effect of layering scents. This is the feature of our brand. The scents are blended simple and stylish fits any situation so it is able to be layered the scents.
What to do with diffuser sticks? 
To enhance the scent distribution within the space, these are some tips on how you can achieve that.
Increase the Number of reed sticks
The more sticks are used, the more scents are spread.
Flip over the reed sticks
If it feels like the scent is getting weaker, flip the sticks over.
Get new reed sticks
After trying the 2 listed steps above and there's no change. The sticks could be due to the sticks being clogged. Consider replacing them.
With these tips, you will finally be able to have long-lasting scents that fills up your lovely space!
Come visit SHOLAYERED @ Raffles City Shopping Centre 252 North Bridge Rd, Singapore 179103, Basement 1 #B1-K14A
For more information, visit our online store https://SHOLAYERED.sg